Menu
Get your fingers sticky at Sticky Fingers and try our specially marinated and grilled Sticky Chicky.
The specialty of the house, the Sticky Chicky is an Italian, free range, fully organic, corn fed rooster, marinated in a special combination of over 30 herbs and spices, grilled with selected woods of the churrasco method, served with home fries and a choice of two of our legendary sauces: Sticky Light and Sticky Hot.
Pizza lovers – we have the longest pizza in the city! Original hand-crafted authentic pizzas specially created by our own Pizzaiolo. It is made with the finest selected ingredients and 1 metre long. Perfect for sharing.
PIZZA NEAPOLITANA
CHOOSE YOUR OWN SIZE:
50 CM – (UP TO 2 CHOICES)
100 CM – (UP TO 4 CHOICES)
PRICE PER 25 cm
01. MARGHERITA
24 pln
tomato sauce, mozzarella, basil, olive oil
02. STAMMI LONTANO
29 pln
tomato sauce, onion, tuna, cherry tomatoes, mozzarella
03. FORMAGGELLA
34 pln
mozzarella, gorgonzola, provola, slices of parmesan
04. PARMA
36 pln
tomato sauce, mozzarella, parma ham, rocket salad, parmesan
05. PROSCIUTTO FUNGHI
36 pln
tomato sauce, mozzarella, champignon mushrooms, prague ham
06. DIAVOLA
27 pln
tomato sauce, mozzarella, salami spianata piccante, jalapeno, basil
07. GRECA
33 pln
tomato sauce, mozzarella, feta cheese, black olives, sundried tomatoes
08. PAPATOSA
27 pln
tomato sauce, mozzarella, fries
09. STICKY FINGER
35 pln
mozzarella, mushrooms, onion, baked bell pepper, sticky chicken, parmesan
10. VEGETARIANA
29 pln
tomato sauce, mozzarella, grilled vegetables, rucola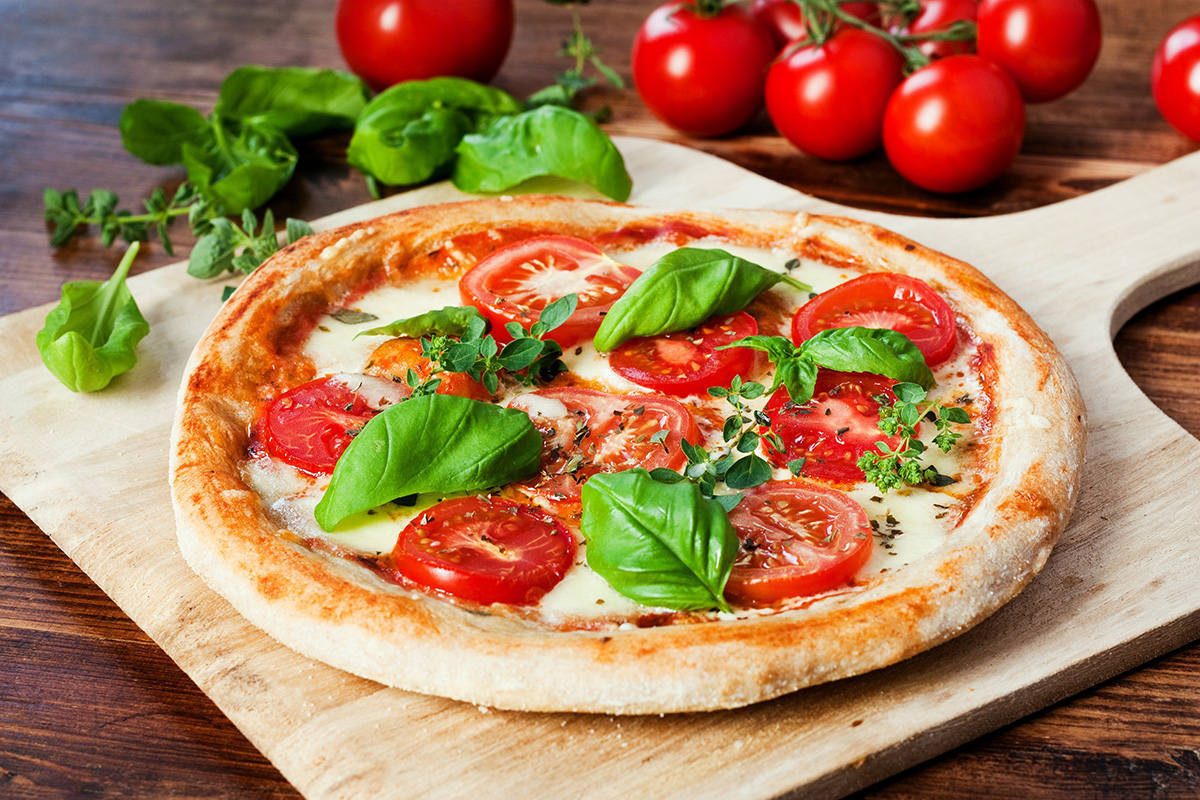 PIZZA ROMANA
01. MARGHERITA
23 pln
tomato sauce, mozzarella, basil, olive oil
02. CAPRICCIOSA
27 pln
tomato sauce, mozzarella, ham, mushrooms, red onion
03. SALAMI PICCANTE
33 pln
tomato sauce, mozzarella, salami picante
04. QUATTRO FORMAGGI
33 pln
mozzarella, azure, gorgonzola, feta
05. PARMA
37 pln
tomato sauce, mozzarella, parma ham, rocket salad, parmesan cheese
06. PARMA BIANCA
34 pln
mozzarella, baked parma, basil pesto, parmesan
07. VEGETARIANO
33 pln
mascarpone sauce, mozzarella, broccoli, sugar peas, red onion, azure
08. PERE E NOCI
31 pln
mozzarella, caramelized onion, pear, azure, walnut
09. ALLA CARBONARA
35 pln
mascarpone sauce, mozzarella, bacon, onion, egg, parmesan
10. BARBECUE DI MANZO
35 pln
tomato sauce, mozzarella, beef barbecue, salami, peppers, mushrooms, jalapeno, red onion
11. PATATE CON TARTUFO
25 pln
mozzarella, potato slices, truffle oil, fried mushrooms
12. ASPARAGI E FRAGOLA
39 pln
mascarpone sauce, asparagus, bacon, strawberries
13. POLLO
33 pln
tomato sauce, mozzarella, chicken, sundried tomatoes, spinach
14. PATE AL MIRTILLO ROSSO
35 pln
mustard sauce, mozzarella, cut pate, fried onion, bacon, cranberry, pickles
+ SAUCE (tomato, herb, spicy, garlic) each 2 pln
SECONDI PIATTI – SECOND COURSES
01. STICKY CHICKY – GALLETTO ITALIANO
65 pln
A specialty of the house, the Sticky Chicky is an Italian, free range, fully organic, corn fed rooster, marinated in a special combination of over 30 herbs and spices, grilled with selected woods of the churrasco method, served with fries and hot or mild sauce
02. STICKY CHICKEN BURGER
36 pln
Chicken burger with a homemade bun served with fries
03. STICKY CLASSIC BURGER
38 pln
Beef burger with a homemade bun, cheddar cheese, classic sauce and fresh vegetables, served with fries
04. STICKY BACON BURGER
39 pln
Beef burger with a homemade bun and sauce, crispy bacon, cheddar cheese, fresh vegetables, served with fries
05. TAGLIATA
69 pln
Sirlion tagliata with grilled vegetables and green pesto
06. FILET ALLA MILANESE
36 pln
Chicken Milanese served with potato and mustard purée and brussels sprouts
07. FILET WITH GORGONZOLA
43 pln
Chicken breast stuffed with gorgonzola and parma ham in wine sauce, served with a mix of salads and homemade fries
08. SALTIMBOCCA
64 pln
Slices of veal in sage sauce served with baked potatoes and grilled vegetables
09. GRILLED SALMON
54 pln
Grilled salmon served with potatoes roasted with rosemary, fried spinach with white wine sauce
PASTA
01. SPAGHETTI CARBONARA
31 pln
Spaghetti with cream, egg yolk, bacon and parmesan
02. AGLIO E OLIO
38 pln
Spaghetti with olive oil, garlic and prawns
03. TAGLIATELLE WITH BOLETUS
38 pln
Tagliatelle with boletus in creamy sauce with truffle oil and parmesan
04. PENNE WITH CHICKEN
32 pln
Penne with chicken in creamy sauce with sundried tomatoes, sprinkled with parmesan
05. RAVIOLI
37 pln
Italian ravioli with spinach and ricotta in sage sauce
06. SPAGHETTI VERDE
26 pln
Spaghetti with basil pesto and grilled pepper, zucchini and mushrooms

ZUPPE – SOUPS
01. TOMATO CREAM
18 pln
Tomato cream with mascarpone, basil
02. WHITE VEGETABLES CREAM
16 pln
White vegetables cream, served with bacon chips
DESSERTS
01. PANNA COTTA
21 pln
Creamy Italian dessert based on cream and vanilla served with raspberry mousse
02. FONDANT
21 pln
Chocolate fondant served with vanilla ice cream
03. CHEESECAKE
21 pln
Creamy cheesecake on pie crust sprinkled with strawberry powder
04. ICE CREAM
19 pln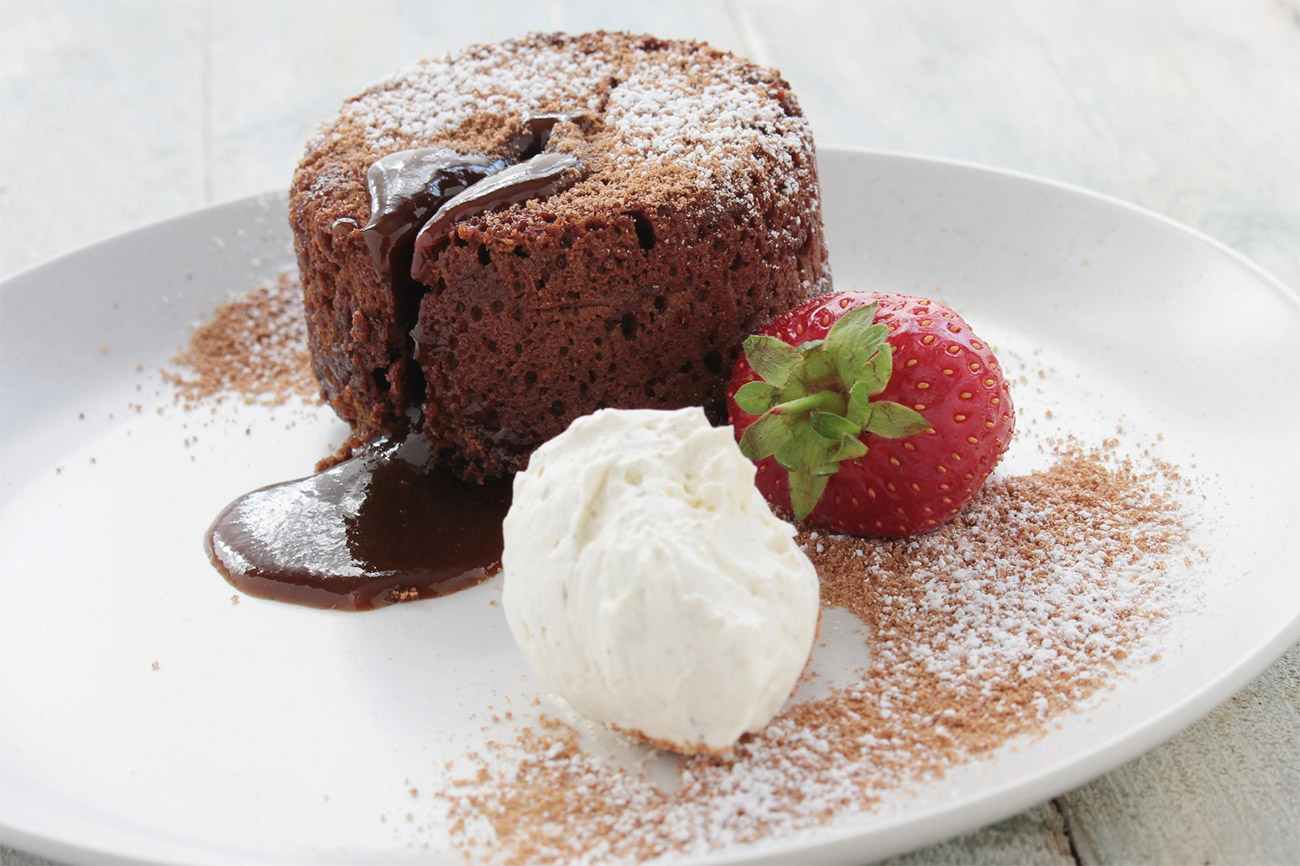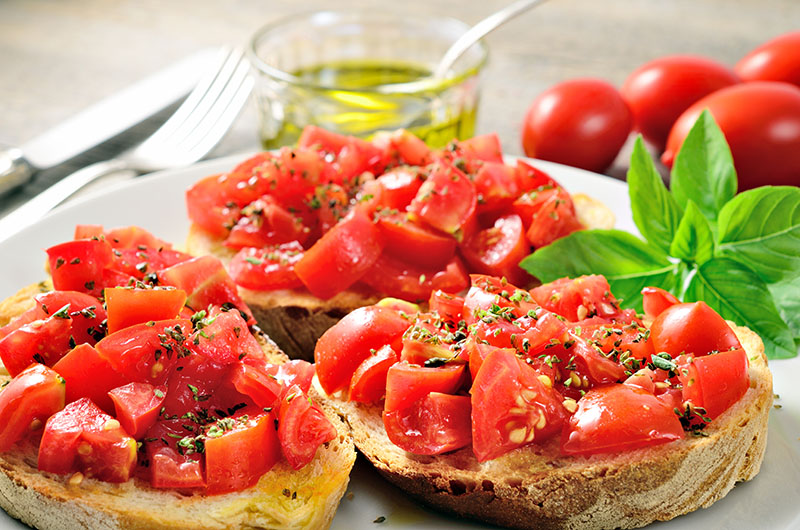 ANTIPASTI – STARTERS
01. BRUSCHETTA
21 pln
Bruschetta with fresh tomatoes, garlic, basil
02. BRUSCHETTA
21 pln
Bruschetta with stewed bell pepper salsa and green pesto
03. STICKY FINGERS WINGS
32 pln
Italian baked chicken wings with maple syrup and chilli
04. STICKY FINGERS WINGS BOX
32 pln
Italian baked chicken wings with maple syrup and chilli – 30 pieces
05. ARANCINI
39 pln
Sicilian stuffed rice balls in breadcrumbs
06. PRAWNS WITH BUTTER
39 pln
Prawns in butter with black olives, garlic, zucchini and cherry tomatoes
07. MUSSELS
42 pln
Pot of mussels in white wine sauce with garlic, chilli and parsley
08. FOCACCIA
21 pln
Foccacia with cherry tomatoes and rosemary, served with homemade paste
09. CHEESE BOARD
48 pln
Cheese board served with red onion paste, capers, grapes, olives and fresh baquette
10. MEAT BOARD
48 pln
Meat board served with red onion paste, capers, grapes, olives and fresh baquette
INSALATE – SALADS
01. CAESAR SALAD
33 pln
Caesar salad with grilled chicken, bacon croutons, cherry tomatoes and parmesan
02. PRAWN SALAD
36 pln
Salad with prawns, cherry tomatoes, grilled zucchini and citrus dressing
03. GOAT CHEESE SALAD
34 pln
Salad with grilled goat cheese, marinated beetroot, pear, walnuts and honey-lemon sauce
04. ARTICHOKES SALAD
32 pln
Salad with artichokes, cherry tomatoes, fresh cucumber, sundried tomatoes and vinaigrette dressing
05. BEEF SALAD
33 pln
Fried beef salad with balsamic cream, bell pepper and parmesan flakes
All prices are in PLN and inclusive of VAT